OWL WIRELESS ELECTRICITY MONITOR
The OWL Wireless Electricity Monitor+USB is designed to reduce your electricity bills, greenhouse gas emissions and help save the environment.
OWL+USB shows you how much electricity you are using and the amount of carbon being generated. Now with added benefit of allowing you to track this valuable data via your PC.
With a new simplified menu, enhanced memory capability, minute by minute data storage and an ultra high speed data download time that makes tracking your electricity consumption now even easier.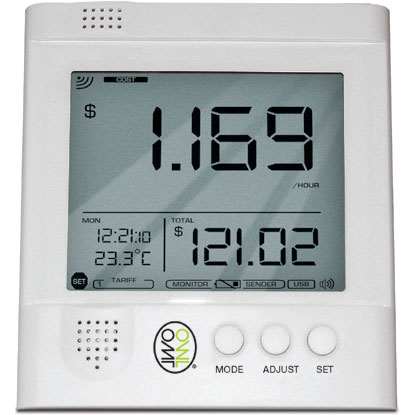 OWL+USB offers detailed historical data and now features average readings either daily, weekly, monthly or quarterly, plus a two year rolling history storage capacity. All in one handy display. OWL+USB comprises three elements: the sensor, the transmitter and the display unit. Installation* is safe, quick and easy.
Features of the Owl Wireless Electricity Monitor
• Wireless, portable monitor with large LCD screen
• Date, time and temperature display
• Supports up to 6 time tariffs (week day/weekend split)
• Cost of current and historical electricity consumption display
• Average, weekly, monthly, quarterly cost display
• Current and historical greenhouse gas emissions display
• Track & Store consumption via PC
• Superior memory capability
• Built in USB port for high speed data download to PC
• 2 years rolling data
• Power consumption (kW) display
• Current consumption (Amps) display
• Accumulated energy consumption (KWH) display.
• Current & accumulated greenhouse gas (GHG) emission rate display.
• Data logger function with built in 4MB flash memory
• Data storage: '1 minute average current' for last 30 days and '1 day average current' for last 720 days
• Last 30 days '1 minute average current' can upload to PC through USB connection
• Last 720 days '1 day average current' can be reviewed on the main unit